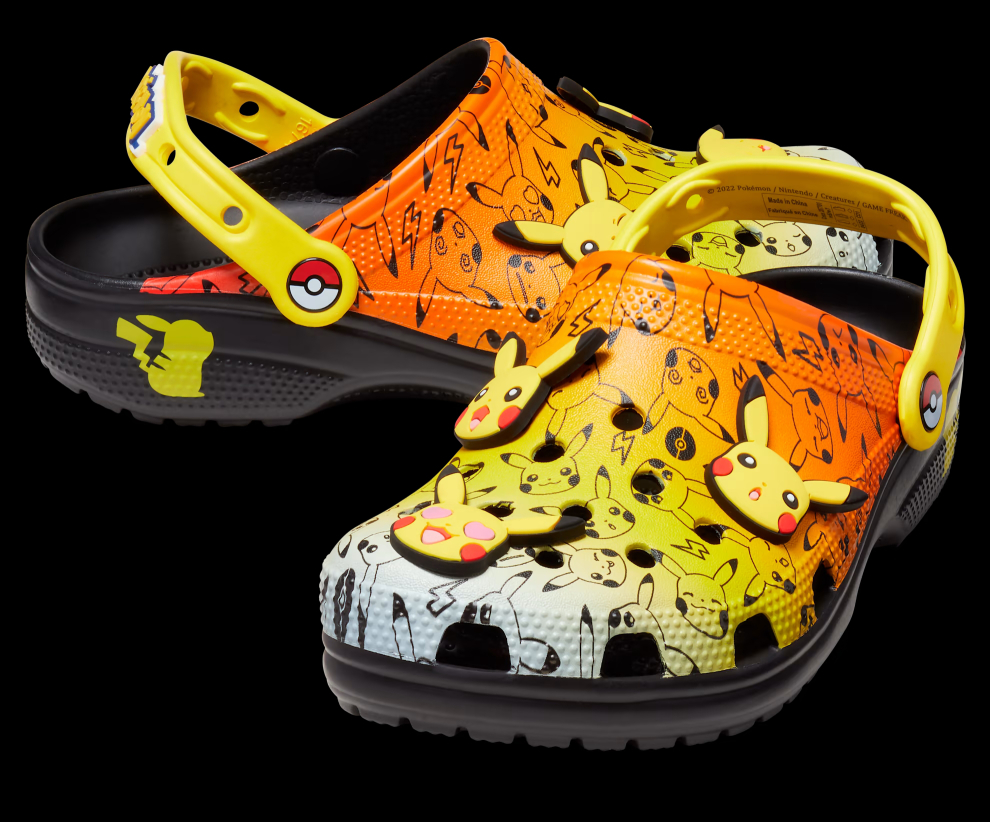 If you're a fan of Pokemon, you know that expressing your love for the franchise in fun and creative ways is a must. And what better way to do so than by wearing your favorite Pokemon on your feet? These eye-catching Pokemon Crocs are the perfect footwear to rock your favorite Pokemon. Here are four reasons why you should add these Crocs to your Pokemon collection.
Show Off Your Love for Your Favorite Pokemon
These Pokemon Crocs are designed with various fan-favorite Pokemon characters, from Pikachu to Charmander and beyond. They allow you to showcase your love for your favorite Pokemon in a bold and eye-catching way. Whether you're a fan of the classic or newer generation Pokemon, there's a pair of Crocs for everyone.
The vibrant colors and intricate designs of these Crocs make them stand out from the crowd. They are an attention-grabbing accessory that will add a playful twist to any outfit. Wear them with your favorite jeans and t-shirt or dress them up for a Pokemon-themed event. With these Crocs, you'll be able to rock your favorite Pokemon in style.
Comfortable and Supportive
These Pokemon Crocs aren't just fashionable; they're also incredibly comfortable and supportive. They are designed with Crocs' signature Croslite material, which provides cushioning and support to your feet. The material is also lightweight, making these Crocs perfect for wearing all day.
The roomy fit of these Crocs allows your feet to breathe and move freely. They come with an adjustable heel strap that can be worn up or down, depending on your preference. These Crocs also feature a non-slip sole that provides excellent traction and helps prevent slips and falls.
Personalize Your Crocs with Jibbitz
If you're looking to personalize your Crocs even further, you can do so with Jibbitz – small, colorful charms that fit into the holes on your Crocs. These Pokemon-themed Jibbitz feature various Pokemon characters and symbols, allowing you to customize your Crocs to your liking.
From Pokeballs and Pikachu to Charizard and Eevee, the options are endless. The addition of Jibbitz allows you to make your Crocs even more unique and personal. You can add your favorite Pokemon characters or create a custom design that represents your love for the franchise.
Connect with Other Pokemon Fans
Wearing these eye-catching Pokemon Crocs is not just a fashion statement; it's also a way to connect with other Pokemon fans. Pokemon has a massive and passionate fan base worldwide, and these Crocs instantly identify you as a member of that community. They serve as a conversation starter, allowing you to bond with other fans and share your love for the franchise.
Whether you're attending a Pokemon-themed event, convention, or simply walking down the street, these Crocs will catch the attention of other fans. They create a sense of camaraderie and common interest, making you feel connected to the broader Pokemon community.
In conclusion, these eye-catching Pokemon Crocs are a fun and creative way to express your love for the franchise. With their vibrant colors, unique designs, and comfortable fit, these Crocs are the perfect accessory for any Pokemon fan. By adding Jibbitz, you can make them even more personalized and unique. They are also an excellent way to connect with other fans and share your excitement for the franchise. So why not rock your favorite Pokemon with these Crocs and show off your love for the franchise in style?